Top 10 Slots from Endorphina
Known for crafting appealing, diverse, and innovative games, Endorphina is a leading slots provider. Find its top 10 slot games to try your luck.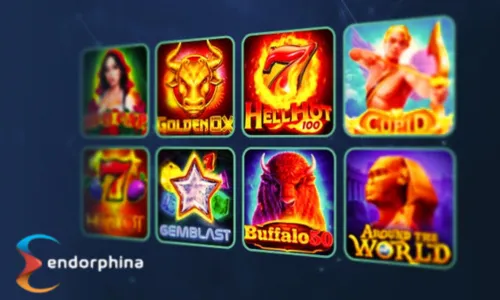 In the dynamic world of online gambling, Endorphina has emerged as a standout casino game provider, renowned for its innovative approach to game development and an extensive portfolio of exciting and engaging titles.
Founded in 2012, this Prague-based company has rapidly become a force to be reckoned with in the iGaming industry, known for its dedication to creating games that capture the hearts of players around the world. Endorphina's commitment to quality, exceptional graphics, and compelling gameplay experiences has allowed it to stand out in a highly competitive market.
Endorphina has gained recognition for its commitment to producing high-quality casino games that offer a unique gaming experience. Their game portfolio covers a wide range of themes and styles, catering to diverse player preferences. The company's development team combines cutting-edge technology with creative design, resulting in games that not only look visually stunning but also deliver smooth and engaging gameplay. With a focus on innovation, Endorphina regularly releases new titles to keep players entertained and eager for more.
Interesting Facts about Endorphina
Early Market Entry: Endorphina entered the iGaming industry in 2012 when online casino gaming was still in its nascent stage. Their early entry allowed them to establish a strong foothold and develop a reputation for excellence.

Provably Fair Games: Endorphina is committed to transparency and fairness. Many of their games utilise blockchain technology to offer players provably fair gaming experiences.

Global Reach: Endorphina's games are enjoyed by players in over 60 countries, with their content available in multiple languages and currencies, making them accessible to a wide and diverse audience.

Awards and Recognitions: The company has received numerous awards for their games, including the Best Online Slot Developer at the 2020 BEGE Awards and the Slot of the Year award at the AskGamblers Awards.
Top 10 Slots from Endorphina
Endorphina's commitment to creating visually captivating and entertaining games is evident in each of these top 10 titles, offering a diverse range of themes and experiences for casino enthusiasts.
Book of Santa
Get ready to celebrate Christmas all year round with "Book of Santa." The game is a festive wonderland filled with cheerful symbols like Santa Claus and his sleigh. Its charming graphics bring holiday cheer to life. With a Free Spins feature and special expanding symbols, players can unwrap big wins as if it were Christmas morning.
Diamond Vapor
Step into the vibrant world of a trendy vape bar with "Diamond Vapor." The game's sleek graphics and symbols like vape pens and fashionable characters create a stylish atmosphere. The unique Gamble feature adds an extra layer of excitement, making it a must-try for players looking for a contemporary gaming experience.
Lucky Streak 3
For lovers of classic fruit machines, "Lucky Streak 3" is a timeless choice. Its symbols include cherries, sevens, and bars, reminiscent of traditional slots. With straightforward gameplay and engaging graphics, it offers a nostalgic yet enjoyable gaming experience.
Voodoo
Immerse yourself in the mystical world of voodoo with "Voodoo." The game boasts enchanting symbols like voodoo dolls and tribal masks, creating an eerie and alluring atmosphere. The graphics are captivating, and with cascading reels and multipliers, players can conjure up some enchanting wins.
Taboo
"Taboo" takes players on a seductive journey into a world of passion and desire. The game features sultry symbols and a compelling storyline. Its alluring graphics and unique gameplay make it an enticing choice, with the potential for thrilling and sensual rewards.
In Jazz
Swing to the rhythm of jazz with "In Jazz," a slot that captures the elegance of the 1930s jazz era. The game's stylish jazz musicians and charming animations transport players to a bygone era. With its delightful graphics and engaging gameplay, "In Jazz" offers both entertainment and the chance for big wins.
Troll Haven
Enter the enchanting world of trolls in "Troll Haven." The game is filled with adorable troll characters and lush graphics, creating a magical atmosphere. With cascading reels and multipliers, it offers an adventure filled with the whimsy of nature and the promise of significant rewards.
Origami
"Origami" draws inspiration from the ancient Japanese art of paper folding. The slot features intricate paper animals as symbols, all beautifully crafted. With expanding wilds and serene graphics, "Origami" offers a peaceful and rewarding gaming experience that's as visually appealing as it is entertaining.
Kamchatka
"Kamchatka" transports players to the rugged and wild landscapes of the Russian Far East. The game features stunning scenery, including volcanoes and wildlife, captured in striking graphics. With free spins and multipliers, "Kamchatka" offers an exciting adventure filled with the beauty of nature and the potential for substantial wins.
2027 ISS
Embark on an out-of-this-world adventure with "2027 ISS," set aboard the International Space Station. The game features space-themed symbols, and its backdrop showcases Earth from orbit, providing an impressive visual experience. With free games and expanding wilds, players can enjoy a gaming adventure that's truly cosmic.